the OWOH give away is over and I have met so many nice people! Thank you all for your sweet, funny, inspiring and most of all MANY comments!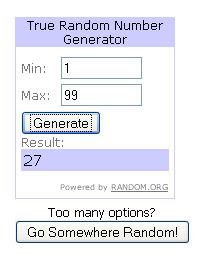 I would love to give you all a window star, but then I would never stop folding and the shipping would wreck me, too ;-) So I used random.org to determine a winner! The winning number was 27, and the 27th comment was written by...
**Drum rolls, please!**
Congratulations, I have already sent you an e-mail asking for the color you want the star to be. I will post a picture of the finished star once its done right here on my blog.
I decided to give away one set of my "Knights and Princesses" ACEOs and one set of my felt ACEOs to people who commented that they like them.
So to all of you that didn't win - if you go to my etsy store and buy something, mention that you participated in my OWOH giveaway and you get a small star for free. I will hold another giveaway once I reach 100 fans on my facebook fanpage - so go over there and become a fan! *pkes sidebar*