'ello there,
I had a bit of a low point earlier this week because now I have 9 dolls listed in my store and others seem to have trouble filling their customs because they have so much to do. So, to make myself feel better, I composed a treasury of Waldorf dolls on etsy. There are so many cute ones! please go there and leave them some love, yes?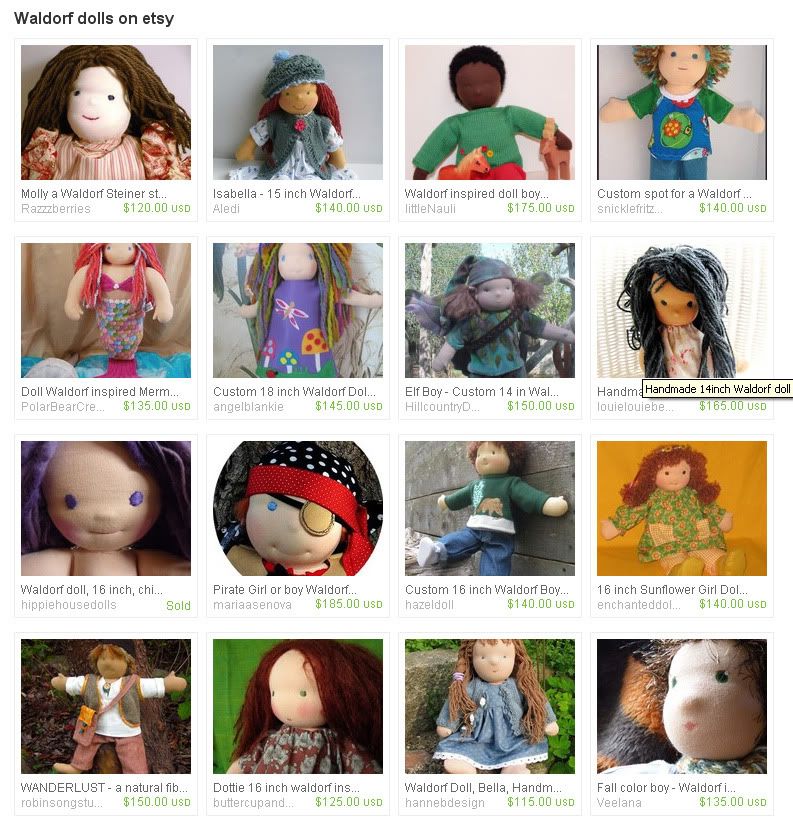 I know I'm not supposed to put myself into my own treasuries, I just couldn't resist - and also, I had trouble finding 16 sellers that are in the same price range.
So, what did I learn from this? Actually, quite a lot.
There are not that many sellers on etsy that do waldorf style dolls and have any listings. (I know there are some more that always have empty shops because every doll gets sold right away)
The girls are awesomly nice - especially Kylie from HippieHouseDolls who's doll actually sold right after it went into my treasury
My dolls are in a good price range
There is a facebook group for waldorf style doll lovers! Thank you, Kylie!
Veelana Doll
I have been wondering what was wrong with my dolls because I didn't sell anything. And then it hit me - why not ask people that know and love and BUY! Waldorf dolls directly? They Girls over at
Gals and Dolls
certainly do all of the above, so I decided to start there. And I found a community that welcomed me, liked my facebook posts and gave my nice but constructive criticism.
The painted faces got mixed reviews - some love them, some like the stitched on variety better
The fiber fill seems to be a bad idea - all of the girls said that it would turn them off and that they much rather buy one with wool stuffing
My dolls clothing seems to be well received
My hair (that I'm quite proud of, actually!) was thought to be too simple - most girls seem to prefer funkier hair.
Bamboletta Doll


So, here's the big question - what am I going to do about it?
The painted faces stay. I love them, they make my dolls unique and I like doing them.
I will order a pack of sheeps wool to make a bunch of wool stuffed dolls just to see how that goes
Yay! The work pays off!
I will make some dolls with funky hair - something for every taste, right?
So, what do you think? Is there anything that I missed? Are there any other reasons why my dolls don't sell? What would the ideal doll look like?
Keep blogging,
Vee