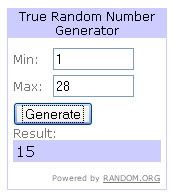 Remember my
window star give away
?
I know, it has been a while, but I have been crazy busy creating more beautiful dolls and some new window stars for you.
And now, without further ado, I present to you the winner of my window star:
I used random.org *pokes picture*
The other window star remains with me - sadly, there are NO entries for the competition...
Keep creating,
Vee